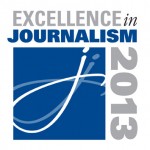 Journalists need to carefully guard their online reputations, according to Marie K. Shanahan, a professor of journalism at the University of Connecticut, speaking at the Society of Professional Journalists' Excellence in Journalism 2013 convention in Anaheim, California on Aug. 26.
Credibility is a key component if you want to be a successful journalist," Shanahan said. "It's your calling card."
Where once, journalists only had to worry about their tweets and public Facebook posts, now all sorts of publicly visible social media interactions are under scrutiny.
"Now 'public' includes any online posts," including liking an image on Instagram.
This should be familiar territory for journalists, even if they're not used to being the objects of the scrutiny: We use search to do research on our sources; there's no reason people aren't going to do the same to us."
Shanahan recommends that journalists vanity search themselves on Google and Google Images.
And don't be fooled that deleting an image or post or tweet makes it go away: "The Internet is a giant copying machine; it never really forgets."
Likewise, restricting a Twitter profile is just a red flag that a journalist has something to hide, she said.
Shanahan recommends journalists be pro-active about their online reputation:
"Use a consistent byline" online and regularly associate their identity with the company they want to be known as working for. (And find out the company's social media policy and abide by it.)
Get journalists should get their own Web domain, preferably with their byline name as the URL, which will rank high in Google searches for that name.
She recommends that journalists use nice headshots for their profile pictures on social media: "Don't make your Twitter profile pic an egg. No one trusts an egg."
Shanahan also recommends that journalists take a look at BrandYourself.com and AllMyTweets.net.
No Comments »
No comments yet.
RSS feed for comments on this post.
Leave a comment
Line and paragraph breaks automatic, e-mail address never displayed, HTML allowed: <a href="" title=""> <abbr title=""> <acronym title=""> <b> <blockquote cite=""> <cite> <code> <del datetime=""> <em> <i> <q cite=""> <s> <strike> <strong>