Well, Peter and I just got back from tonight's Society of Professional Journalists award dinner in Riverside. It's always interesting seeing all the journalists in attendance, particularly what everyone feels is the dress code; there were folks there who looked like they were at prom, while there were others in jeans and ratty sweaters. (I split the difference, myself.)
The Daily Press, Desert Dispatch and Hesperia Star all had winners at this year's awards in the circulation under 50,000 division:
Daily Press
Gloria Zulema Baez
Lisa Benson
Justin Boggs
C.J. Daft
Tim Haran
Veronica Hill
Stuart Kellogg
Mike Lamb
Gretchen Losi
Mark Peinado
James Quigg
Kris Reilly
Kate Rosenberg
LeRoy Standish
Michael Stenerson
Jason Vrtis
Karen Yosten
Desert Dispatch
Kelly Donovan
Travis Dunn
Adrienne Ziegler

Hesperia Star
Peter Day
Beau Yarbrough
Peter won third place in the News Photo division for his memorable "Pacific Storm" photo, of a flooded Rock Springs Road: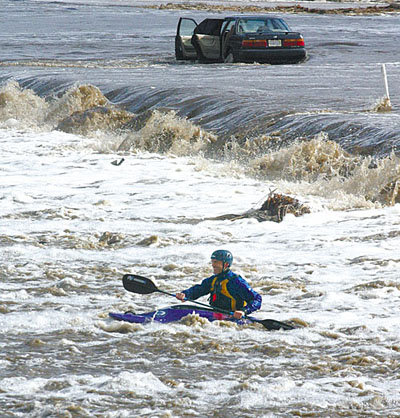 I picked up second place in Best Feature Story for They Ain't Scared of No Ghost, second place in Best Law Enforcement/Legal Affairs Story for High-Flying in Hesperia and third place in Government/Political Story for Is Hesperia Casino Really Terminated?
This is my second award for a law enforcement story in two years, which I suspect will give a deceiving picture of what I was covering at the Hesperia Star in years to come. It's also my second casino-related award, which is more indicative.
I didn't bring my notebook with me to record what all the Daily Press and Desert Dispatch reporters won for, but fortunately, someone from the DP did: Local journalists bring home awards. (The staff reporter missed that Justin Boggs got both second and third place in the cultural/diversity writing category, though — he was at our table.)
Judges' comments should be up on the official SPJ site next week, and I'll link to them when they're posted.
1 Comment »
Grats Beaubeau. Nice job.

Comment by Dmitry the Wizzy — May 14, 2006 @ 19:50
RSS feed for comments on this post.
Leave a comment
Line and paragraph breaks automatic, e-mail address never displayed, HTML allowed: <a href="" title=""> <abbr title=""> <acronym title=""> <b> <blockquote cite=""> <cite> <code> <del datetime=""> <em> <i> <q cite=""> <s> <strike> <strong>