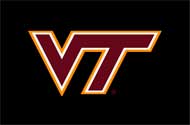 Contrary to earlier reports, one member of Pi Kappa Alpha's Epsilon chapter (that's the fifth chapter chartered, for you non-Greeks) was wounded in the April 16 shooting rampage at Virginia Tech, according to the chapter's faculty advisor, Tom Tillar, an e-mail he sent out to chapter alumni this week:
News from Blacksburg and the Tech campus is better these days, than just a few months ago. We appreciated hearing from many of you following April 16th. The healing process continues here as we ready for a new fall semester beginning in mid-August. I chaired the university's special memorial committee to plan and construct a permanent memorial to April 16th. I am pleased that it will be completed in early August, and built almost entirely with contributed materials and labor. We will dedicate it in the first weekend of the semester and host the families of the victims who will return to campus for the occasion.

My more important reason for writing is to share news that one of our PiKA brothers – Fred Cook – was in one of the four targeted Norris Hall classrooms on April 16th. He was in Professor Librescu's ESM class, and was able to escape from the second story window while his professor held the door so most of his students could escape before being shot and killed himself. Fred had a minor fracture to an ankle from the jump, but is doing fine with it. In fact, he is planning to run in the Marine Corps Marathon in DC in October, along with about 100 Tech students who are raising funds for a memorial scholarship honoring the April 16th victims. The Marathon granted an unprecedented 100 places to our students for this Hokie Spirit Run.

This is an enormously important goal for Fred, who will finish his Engineering degree next May. It will help him in the process of his personal healing from an experience none of us can fully comprehend. I have tried to spend quite a bit of time with him in these months since his experience as a survivor of the tragic shooting.

I have contributed $1,000 toward Fred's personal goal of raising $10,000 toward the scholarship endowment. And, I have told him that he can count on far exceeding his goal, after I share this message with all of you. Already, my earlier note to just a few Cotillion Club alumni has generated several thousand dollars in gifts toward Fred's goal. You can learn about his marathon and get in touch with Fred through the flier he created, and I have attached. Fred's email is fcook@vt.edu.

Please consider joining me in supporting Fred's goal, if you have not already contributed to the Hokie Spirit Memorial Fund. The scholarship that Fred and the other students are creating is separate from the Hokie Spirit Fund, but within the Virginia Tech Foundation endowed scholarships.

I know Fred would be pleased to hear from you and be encouraged by messages from many Pikes, most of whom he has never met. I have known Fred since he first pledged, and you will not meet a better Pike, or a better Hokie, anywhere. Fred is attending the fraternity's annual national leadership academy this weekend in Memphis, where he will be recognized and share his message of how valuable the support of his Brothers has been since the tragedy.

We will prevail! Tom
The Virginia Tech Cotillion Club was the organization that was turned into the Epsilon chapter, once fraternities were allowed back on campus in the 1970s, after being absent for almost a century.
No Comments »
No comments yet.
RSS feed for comments on this post.
Leave a comment
Line and paragraph breaks automatic, e-mail address never displayed, HTML allowed: <a href="" title=""> <abbr title=""> <acronym title=""> <b> <blockquote cite=""> <cite> <code> <del datetime=""> <em> <i> <q cite=""> <s> <strike> <strong>