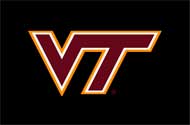 They came throughout the day – some bearing flowers, others wiping away a stray tear. They moved slowly, reverently on the gently curving path in front of Burruss Hall, pausing to look at each of the names engraved on 32 distinctive chunks of "Hokie Stone."

Nicole Regina White. Daniel Patrick O'Neil. Matthew Gregory Gwaltney. Ross A. Alameddine.

"To me, this is like the first day in the beginning of a healing process," Charles Bray said Friday, he and his wife, Becky, having just strolled past the somber memorial that now occupies a place of honor at his alma mater.

Come Saturday, there will be a commemoration of a different sort. More than 66,000 people – most of them adorned in the gaudy school colors, maroon and orange – will cram every nook and cranny of Lane Stadium to watch their beloved Hokies take on East Carolina in the first game of a new college football season.

"When you talk about 'We will prevail and get on with our lives,' sometimes it's sort of hard," Bray said. "When is it appropriate to not cry, to not mourn. When is it appropriate to cheer? I think football will make that evident."

Reema Joseph Samaha. Caitlin Millar Hammaren. Rachael Elizabeth Hill. Waleed Mohamed Shaalan.

Even now, more than four months later, it doesn't seem possible that the worst mass shooting in modern American history could befall an idyllic campus such as Virginia Tech, nestled up against the Blue Ridge Mountains, far away from any hustle and bustle.

Then you see all those names carved in stone, each of them representing a life that was cut short so senselessly. They were the ones who paid when a deranged student – one of them, no less – decided to unleash his rage.

Now it's time for football. The survivors are eager to scream and yell and show the rest of the nation that the Hokie Nation is getting along fine, even though they'll never forget that bitter April day.

"I suspect there will be a lot of tears shed," Bray said. "But I think by the end of the game, there will be a lot of cheering. Maybe we'll have a better feeling about things."
Good long piece, balanced in its look at sports' place in collegiate life.
No Comments »
No comments yet.
RSS feed for comments on this post.
Leave a comment
Line and paragraph breaks automatic, e-mail address never displayed, HTML allowed: <a href="" title=""> <abbr title=""> <acronym title=""> <b> <blockquote cite=""> <cite> <code> <del datetime=""> <em> <i> <q cite=""> <s> <strike> <strong>