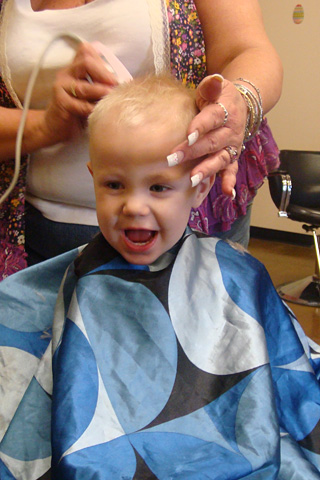 He will sign "all done" whenever he's done with food or an activity or anything. The other day, he signed "sleep" and "all done" when he was in the bath. I held up the towel, he climbed up into it, and didn't object to being put into his pajamas or bed — he had asked for it, after all.
"Eat" is his primary word now, which he will couple with the sign to make sure we know that he's hungry. He will also race around the house saying "cat, cat, cat" whenever he's on the hunt for Hanna (especially) or Lucky.
He's been in a better mood generally now that his primary needs can be communicated to us most of the time, although he's generally a pretty happy guy even before this current linguistic burst.
No Comments »
No comments yet.
RSS feed for comments on this post.
Leave a comment
Line and paragraph breaks automatic, e-mail address never displayed, HTML allowed: <a href="" title=""> <abbr title=""> <acronym title=""> <b> <blockquote cite=""> <cite> <code> <del datetime=""> <em> <i> <q cite=""> <s> <strike> <strong>