Netty Madden Yarbrough died on 29 July, 2011 at age 87 in Longview, TX.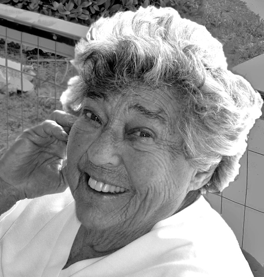 Born in Columbus, GA, she then went to Atlanta, GA at age 17. She moved to East Point, GA where she raised her two sons while operating several businesses. In 1978, she moved with a close friend and business partner to Bradenton, FL where they ran several other businesses. Before retiring, they created and ran a pet boarding kennel in Myakka City, FL. She moved to Mt. Pleasant, TX in 2011 near one of her sons.
In her twenties, Netty was a highly ranked amateur golfer on the Pro-Am Circuit while a member of Druid Hills Country Club in Decatur, GA. She played with both Babe Zeharias and Louise Suggs. She gave up golf to care for her young family but took the game up again fifty years later. After only a few months of practice, she had played a 6-under-par round and was carrying a consistent 18-handicap. Not bad for an out of practice 75 year old!
During her long life, she endeared herself to many people with her humor, inspired others with her persistence and honesty, and, set an example for all with her loyalty and courage. She will be sorely missed by all who knew her.
She was predeceased by three brothers (James, Clinton and Douglas Madden), two sisters (Margaret Mitchell and Ruby Graves Munday), and her long-time friend and partner Shirley Degraves of Myakka City, FL. She is survived by two sons, Lanier B. Yarbrough of Oakland, CA and Dane Madden Yarbrough of Lone Star, TX, one niece, June Orr Boyd of Atlanta GA, four grandsons, and six great-grandchildren.
There will be no memorial service at her request. Cremation was carried out by the Bates-Cooper-Sloan Funeral Home of Mount Pleasant, TX.
1 Comment »
So sorry for your loss. Beautiful obituary though and I love your site.

Comment by Terry Beigie — August 2, 2011 @ 18:17
RSS feed for comments on this post.
Leave a comment
Line and paragraph breaks automatic, e-mail address never displayed, HTML allowed: <a href="" title=""> <abbr title=""> <acronym title=""> <b> <blockquote cite=""> <cite> <code> <del datetime=""> <em> <i> <q cite=""> <s> <strike> <strong>